Bitcoin Energy Consumption Index is an attempt to estimates total energy cost of mining Bitcoin. Their methodology is based on the fact that energy needed to mine Bitcoin will increase in response to oversupply of mining resources. To quote the Bitcoin Wikipedia article:
Every 2,016 blocks (approximately 14 days at roughly 10 min per block), the difficulty target is adjusted based on the network's recent performance, with the aim of keeping the average time between new blocks at ten minutes. In this way the system automatically adapts to the total amount of mining power on the network.
Given this fact, the Bitcoin Energy Consumption Index approach can be summarized as follows:
Calculate how much money Bitcoin miners will earn using current Bitcoin price (1 Bitcoin block, mined every 10 minutes, is rewarded with 25 Bitcoin).
Assume that increase in Bitcoin price will generate more competition from other miners, hoping to cash in on the deal.
Assume that energy resources need to mine each Bitcoin block will increase in response to the oversupply of mining resources.
Estimate how much 1 Kilowatt-Hour of electricity will cost an average miner.
Assume that 60% of potential revenue will be spent on electricity. It could be 50% or 70%, the number doesn't really matter as much, but 60% seems believable, as long as there is a room for miners to make a profit.
Convert 60% of potential revenue to Kilowatt-Hours, to estimate the total energy cost.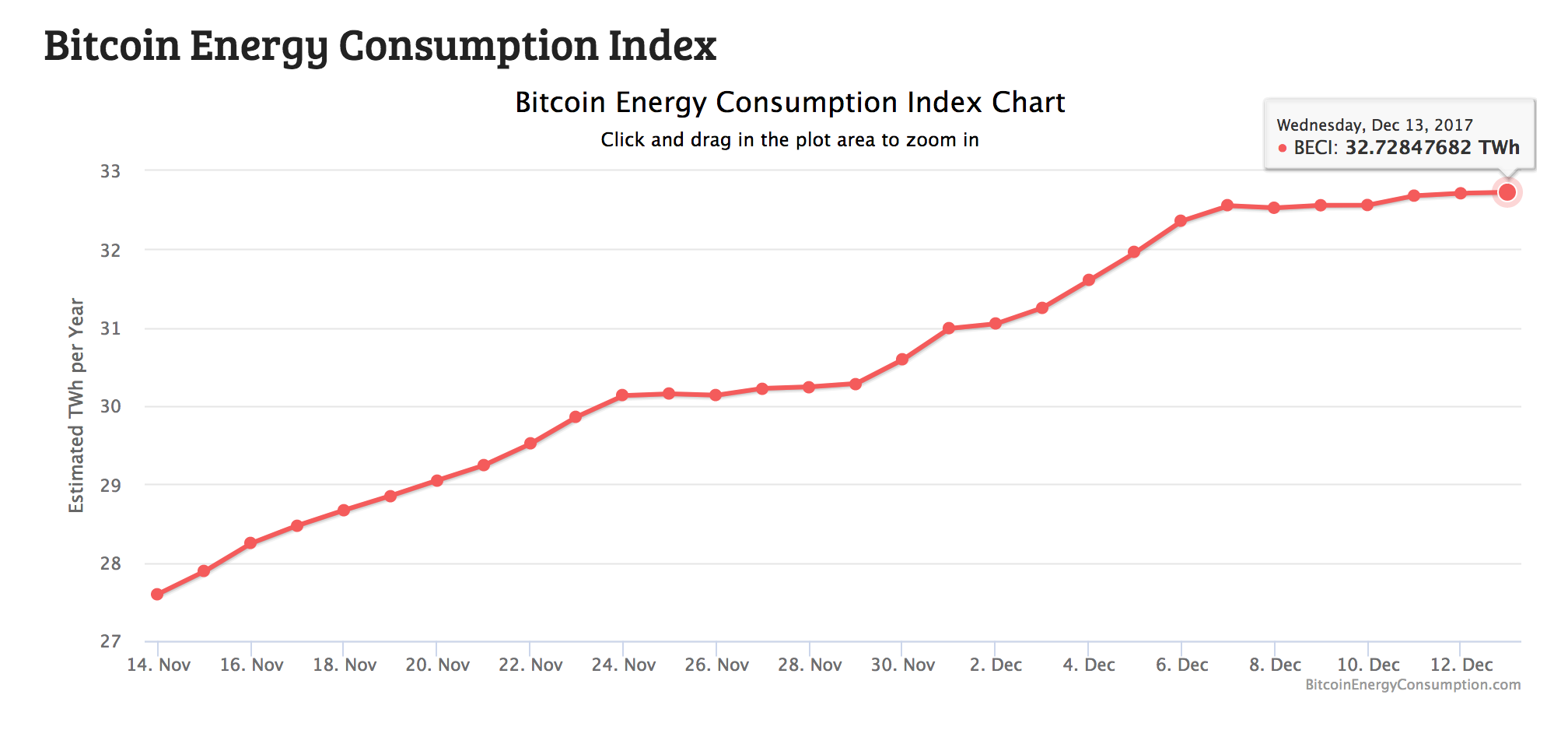 Using this methodology, in December 5, 2017 the cost of annual bitcoin mining was estimated to be 32 Terawatt-Hour. This amount of energy is roughly equivalent (you can see my math bellow) to energy generated by over 1.5 million cars over the course of full year of driving.
This wouldn't be so bad if the energy consumed was generated from renewable resource, but most of Bitcoin miners are currently located in China, where coal is the main source of energy.
In 2017 the cost of bitcoin went from $200 to $11000, an increase of more than 50 times. If it grows by this much in 2018, we can expect Bitcoin energy consumption to jump to equivalent of almost 80 million cars. As a reference point, there are only 30,875,086 registered vehicles in the state of California.
Boring Math
On December 5, 2017 the estimate for annual Bitcoin energy consumption was 32 Terawatt-Hour.
Let's say an average car drives 12,000 miles per year, with average fuel efficiency being 20 miles per gallon, resulting in 12,000 miles / 20 miles per hour = 600 gallons of gas being consumed by a car per year. One gallon of gas generates about 33.41 Killowat-Hour. Hence an average car consumes about 600 gallons * 33.41 Kilowatt-Hour = 20046 Killowat-Hour, in a given year.
Let's assume Bitcoin price will stabilize at 32 Terawatt-Hour per year or 3.2e+10 Kilowatt-Hour.
Which is like putting 3.2e+10 Kilowatt-Hour / 20046 Killowat-Hour = 1,596,328 more cars on the road.
If Bitcoin grows x50 again in 2018, we will be looking at energy consumption equivalent to 1,596,328 * 50 = 79,816,400 cars.